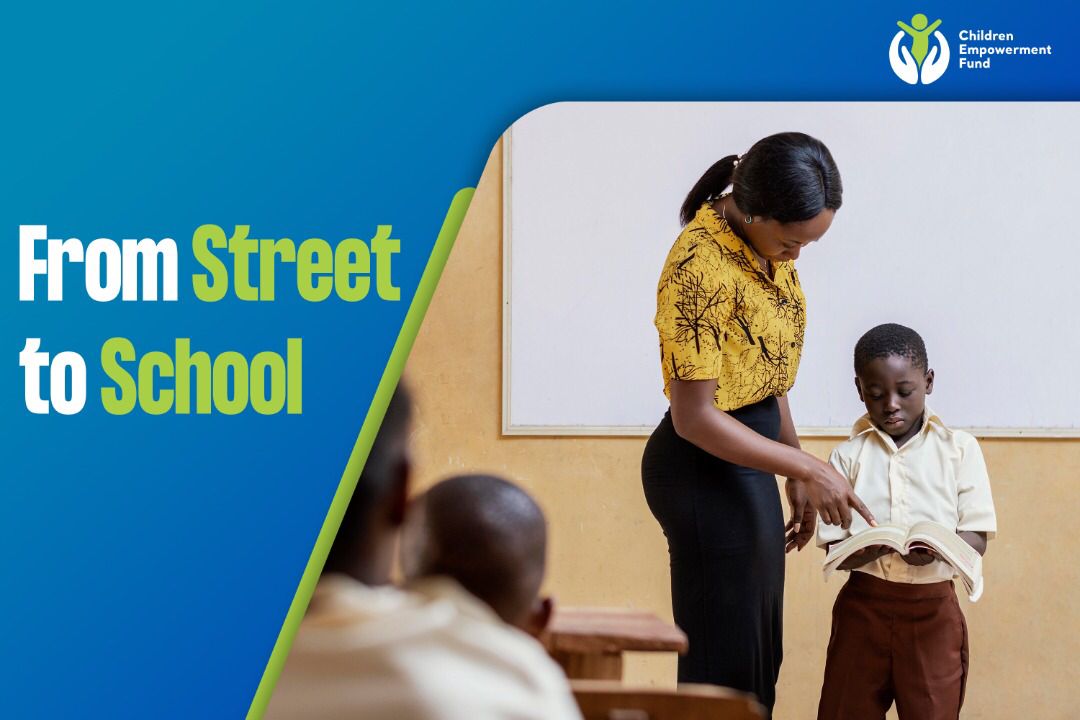 FROM STREET TO SCHOOL (part 1)
The difference between 'street' and 'school' is more than just diction, it's a definitive description of two different environments. Although both are social habitats, the products of the two differ. A child left on the street will naturally become virulent and vicious in character because the 'street' is unsanctioned in the practices and communities of people that hover all over it. The case is different for a 'school', a school is more structured, what you learn as a child is streamlined, the culture is pure and coordinated towards bringing out the best in man.
The advantages of training a child in school outweigh the freedom of the laissez-faire lifestyle of the street child. One would wonder what a 60year old man (Mr. Adelabu Seribor) would be doing in basic school in Southern Nigeria, Delta State in particular. Vanguard newspaper reports that in an interview with him on why he decided to go back to school, his answer is similar to what we already would expect:
"I am sixty years old now and the reason why I decided to go to school at this age is that I perpetually feel the pain of being illiterate in this modern world where everything has to do with English and education. My mother died during childbirth when I was a little boy, while my father was a hunter. I was raised by a grandmother after the death of my mother and later taken to a stepmother when my father remarried. (Https://www.vanguardngr.com/2016/04/amazing-60-year-old-man-attends-secondary-school-bomadi/)
Benefits depend a lot on what sociocultural ethics the environment displays to the child, on the streets they see mixed cultures and lack the mental intuitiveness to make the right choice because their age and senses are programmed to live easy and free. The opposite is what a school gives a child, asides from the mental dividend like that seen in Mr. Adelabu Seribor. Their innate gifts are developed to maximum, decency impacted into them, the meaning of life instilled into them, and the cycle of purpose for living inculcated into them. Imagine the thoughts and feelings his younger classmates would have about education now.
However the case might be, everything is caused by something. His predicament started somewhere and such is the case of many youths in Africa, with the Government also becoming a lead cause.
Mr. Adelabu is among many people who could have chosen to forfeit school, join the socially disoriented society, develop other ungoverned ways of making ends meet thereby extending the trend and lineage of illiteracy. In his own words. he attributed the cause to be that:
"I went through discomfort and hardship from my tender age to adulthood. It would interest you to know that I was so tender at the time my mother died that I was crying for food while she lay dead. I went through struggles all through my life. I was opportune to go to school at my young age, when a relative, who was a magistrate at Ekeremor in Bayelsa State, took me to his house, but because of early morning beatings due to my failure to greet him when rising from bed, I fled back to my father. I had no opportunity to go to school since then, and continued doing menial jobs to survive, which I am still doing."
Making an inference from above, it would make sense to say Poverty and lack of sponsorship paved the way for his ordeals. But at least he made a u-turn, what about the youths who lack the sheer determination to do so – what would be their fate?. This is why Sponsors are needed and you definitely can become one by joining our campaign…
He barely survived the school process by menial labour, imagine if there were free education and fully-funded scholarship for him!!. Mr. Adelabu Seribor, who also explained how he managed to combine his studies and work,
"I am a truck-pusher. After school hours, I go back home to look for work to do, which I have been doing to earn a living. I pay my school fees from there. I am determined to complete my education because of the pains in my heart. Have come to realize that one cannot do well without education in this society. I do all types of menial jobs for a living: I pack dirt from gutters, I pack sand, clear grasses in people's compounds, and pack soak away faeces in the dead of the night. I am a JSS II student and by the grace of God I will finish from this school."
Well, it will be more helpful if many children find someone to send them to school, provide basic amenities for their studies, give them a sense of life and meaning. This will stem the tide of distrust, vices, and hatred. As UNICEF puts it clear that:
'all children, no matter where they live or what their circumstances, have the right to quality education (unicef.org/nigeria/education)
In a continent where the challenge is that: One in every five of the world's out-of-school children is in Nigeria, and even though primary education is officially free and compulsory, about 10.5 million of the country's children aged 5-14 years are not in school. Only 61 percent of 6-11-year-old regularly attend primary school and only 35.6 percent of children aged 36-59 months receive early childhood education (unicef.org/nigeria/education)
The situation is now ripe for your investment, that's exactly why we exist – to make a difference in the educational sector. You can trust us to give the youths a new beginning and create a friendly society where everyone has a hope to live. Your impact generates life, and education is both light and life.